Yamaha CZR15
€0.00
The CZR15 is a 2-way loudspeaker offering high power handling and outstanding sonic performance in a portable, lightweight, yet rugged design. Its versatile, compact enclosure design makes the lightweight CZR15 ideal for range of live performance and installed sound environments—from live bands at outdoor festivals to DJ's in clubs—these loudspeakers deliver crystal clear
Aprašymas
Atsiliepimai (0)
Aprašymas
2-way loudspeaker with a 2" HF and a 15″ LF
Features Yamaha's own Wide Dispersion CD Waveguide Horn
High power 800W(PGM) power handling and Bi-amp capable
Floor monitoring setting enables mirroring configuration
Lightweight yet very durable plywood cabinet with premium graded Polyurea coating
Dual-angle pole socket
Optional speaker cover (SPCVR-DZR15)
Rotatable horn and variety of U-bracket options (UB-DZR15H/V) for rigging allow for very flexible setup and speaker placement
Durable Black or white finish
Focused sound for flexible installation
The CZR Series features 15˝, 12˝ and 10˝ models with transducers with die-cast aluminum frames with a 3˝ voice coil for very high power input, and a lightweight yet powerful neodymium magnet that helps to add punch and power to your bass. The HF unit achieves vivid, soaring highs from its titanium diaphragm with a 2˝ voice coil and neodymium magnet. Like the DZR, the CZR models also feature the rotatable constant directivity horn design (90°x 50° for the CZR15, and 90°x 60° for the CZR12 and CZR10) for increased flexibility in mounting vertically or horizontally.
Best in Class SPL performance
The CZR15 and CZR12 can both produce 129dB SPL with a power rating of 800W for the CZR15 and CZR12, and 700W for the CZR10 in passive mode. Every CZR model is also equipped with Biamp mode to maximize performance.
The CXS XLF Series of consists of two passive subwoofers, the CXS18XLF (18-inch) and the CXS15XLF (15-inch) which can extend the system's low frequency down to a starting 29Hz for throbbing LF capability. Neutrik speakON NL4MP connectors provide safe, reliable and flexible connectivity. Equipped with two input/parallel connectors for multiple subwoofers plus one unique output connector for flexible set up to full-range CZR loudspeakers or cardioid mode setting. It is capable the simpler connection with single 4-pole speakON cable.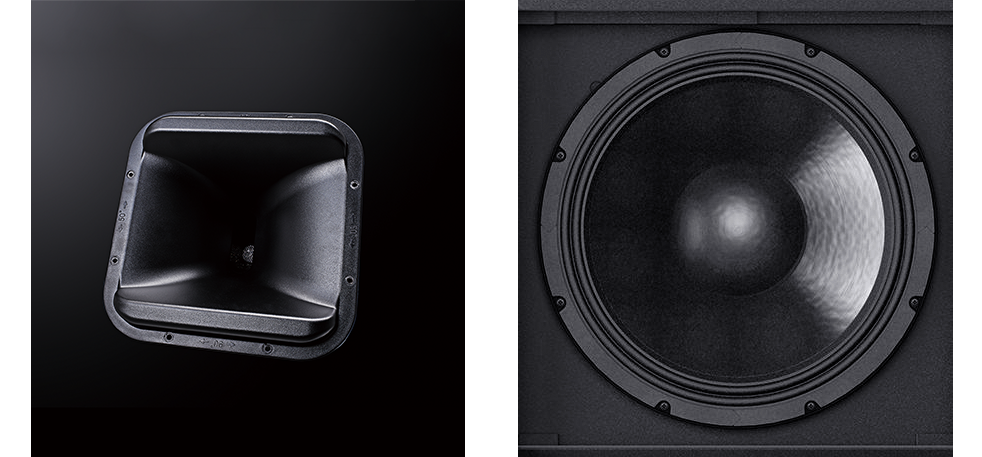 Intelligent processing to maximize system performance
When used in combination with Yamaha PX Series amplifiers or other compatible signal processors, CZR Series loudspeakers can take full advantage of dedicated speaker processor tuning settings. Additionally, like the DXS XLF models, CXS XLF subwoofers are capable of use in cardioid mode provided the processor has the dedicated DSP settings (visit Yamaha pro-audio website for more information).

Premium materials. Road-tested toughness
The specially designed enclosure features lightweight and robust premium plywood with a scratch-resistant, rugged Polyurea coating for improved portability and durability on the road, as well as two different sockets for pole-mounting at either -7° down tilt or level. The CXS XLF are equipped with both a 35mm pole socket and an M20 threaded socket to support a full range cabinet.
Flexible Deployment Options
CZR Series loudspeakers come equipped with plenty of rigging points for any installation environment, allowing for rigged application with standard eyebolts*. Specialized U brackets are also available for convenient flying/hanging installation. *Eyebolts not included.